Offering improved visibility to prevent accidents and protect people
Background
Founded in 1970, McAuliffe has established itself as a leading remediation and enabling works contractor for UK housebuilders, developers, and main contractors.
The family-owned business delivers projects themselves, using their own directly employed team and in-house plant and equipment. As well as its office in Wolverhampton, it also has locations in Manchester and London.
With a large number of vehicles in its fleet, including 24 Volvo tippers, McAuliffe needed a way to monitor the fleet with cameras. The company was having issues with their existing camera supplier, with cameras not working and failing to record. This was important for monitoring not only journeys, but also driver behaviour on busy roads and worksites.
The solution
Spillard was contacted to offer a solution for McAuliffe. From there, Spillard technicians visited the McAuliffe site to analyse the best possible solution to provide extra surveillance.
Spillard's technicians demonstrated the Spillard Live telematics system, which provided camera footage from five cameras located around a vehicle. This system works around the clock and in real time, meaning fleet managers don't have to wait for the vehicle to return in order to download or playback any footage.
To provide protection to vulnerable road users and people on worksites such as HS2, safety equipment was also fitted, including DVR turn left alarms to warn people that the vehicle was manoeuvring, and Spillard's AI Human Detection System, which uses deep learning technology to detect only the human form.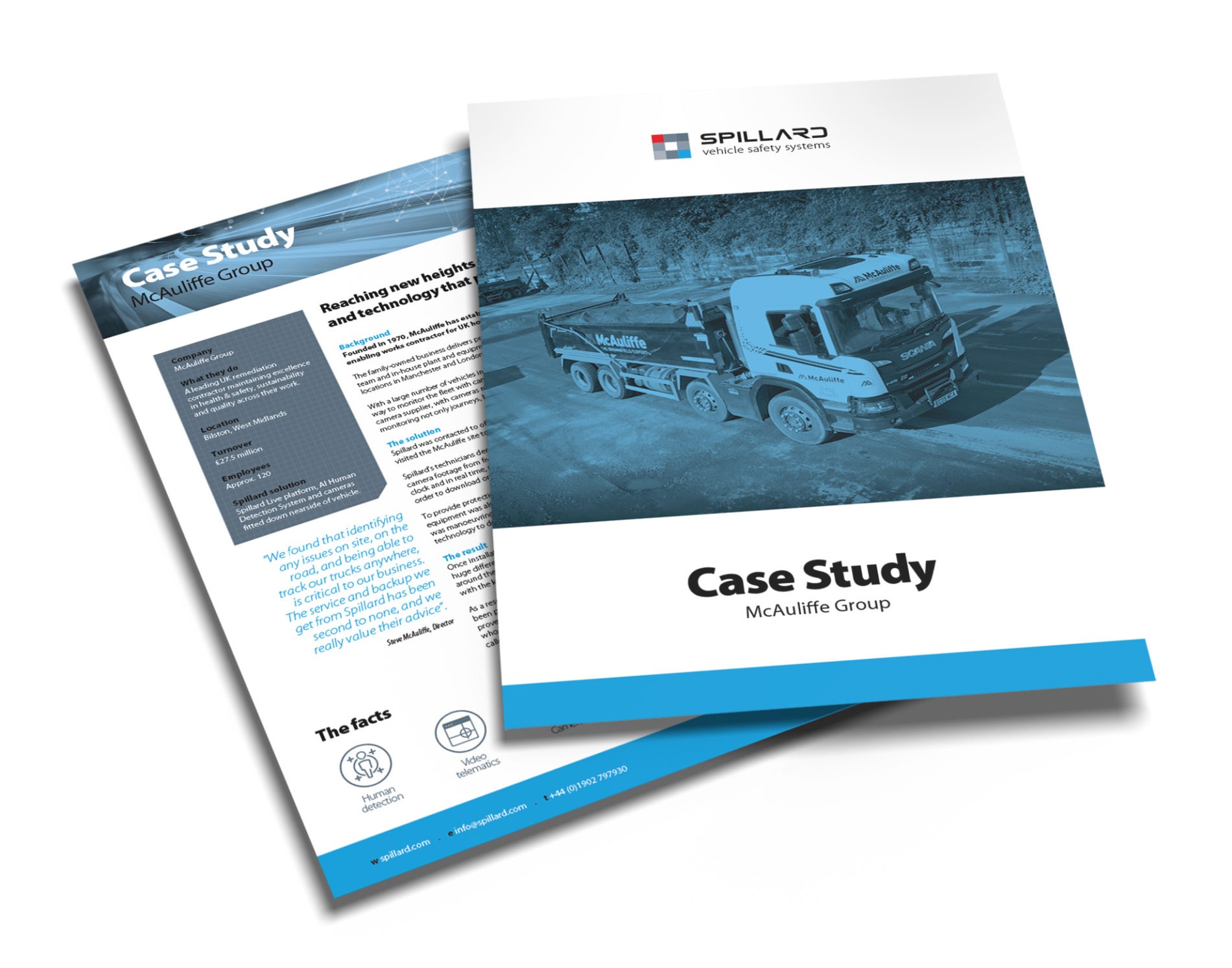 The result
Once installation was complete, which took only a few hours, the solutions began to make a huge difference to McAuliffe's operations, providing safety to operators and those working around the vehicles. McAuliffe is very positive about the new system as it also provides them with the knowledge of who is at fault and can alleviate themselves from blame if necessary.
As a result, Spillard's cameras have already proven to be incredibly useful. One driver had been pulled over by the police for not wearing a seat belt, but thanks to the cameras, it was proven that he was in fact wearing a seatbelt. There was also another case involving a driver who was accused of damaging a resident's front lawn, while the cameras proved that he was called onto the lawn by the site foreman.
Steve McAuliffe, Director, added his thoughts on the new products:
For further information, please follow Spillard Safety on LinkedIn.