S&B Waste teams up with Spillard to increase vehicle safety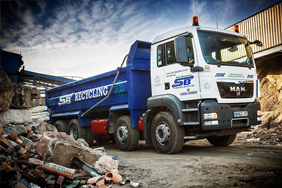 One of the UK's leading skip hire and recycling companies has tapped into technology born in Wolverhampton to help its drivers cut out blind spots and reduce insurance claims.
S&B Waste Management & Recycling, which employs 70 people at its base in Monmore Green, has invested significantly into installing mobile safety equipment from Spillard Safety Systems on to a number of its fleet.
Bosses at the company decided to use Optronics 360°, the world's first aftermarket surround view system for industrial vehicles, to improve the operator's view and this has already resulted in more efficient operation on sites, fewer accidents and less damage due to scraping walls or other objects.
"We operate 40 vehicles every week and across the course of the year we make over 20,000 journeys," explained Steve Broadley, Managing Director of S&B Waste.
"A lot of these are made on tight streets or construction/industrial sites where there are lots of different hazards, many of which are difficult for our drivers to spot. Our first instinct is safety – both for our staff and the general public – so we approached Spillard Safety about some possible solutions."
He continued: "Experts from the firm came out and went through our entire fleet, providing feasibility studies on the different options available and the difference they would make. After much discussion, we eventually went for trialling Optronics 360° on four of our DAF and Scanias.
"The trial has been a resounding success with S&B staff reporting a whole host of operational benefits. Visibility, when performing their jobs, has improved dramatically and this has made staff more efficient within their roles. This has resulted in more journeys and increased customer satisfaction in the process."
S&B Waste, who provide general and specialist waste disposal for a host of public and private sector clients, has taken its commitment a stage further by also investing in Spillard's Optronics Foresight System
This uses a four camera system and a digital video recorder, which captures action from all around the vehicle. In just a short space of time, this has proved invaluable for providing liability on accidents and reducing the company's insurance pay-outs.
Steve added: "Prior to the technology being installed, we had to use the driver's version of events and this was difficult to prove when dealing with insurance firms. Now with the system recording footage, we have already won three cases that were being contested, saving significant payouts and reducing annual premiums in the process.
"It has been one of the best investments we've made and has already paid us back fivefold in terms of improved driver performance, increased safety and reduced insurance and repair costs."
Craig Spillard, Director of Spillard Safety Systems, concluded: "Once a company has seen the technology and how it works in their environment, nine times out of ten they will use it across their entire fleet.
"This is exactly what happened with S&B Waste. What we try and do is make the process as simple as possible, with one of our experts working with their head mechanic on installation and training him to how to use the system – this way he can pass on his knowledge to the drivers.
"Ongoing maintenance and service is included across all vehicles giving the customer complete peace of mind that they are doing everything they can to reduce blind spots and prevent accidents."