Optronics Specialist Projects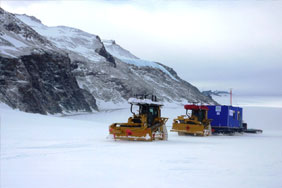 On 21st March a team of intrepid explorers set off on their bid to conquer the last great polar challenge: crossing Antarctica in winter. Their remarkable attempt aims to raise $10m for Seeing is Believing charity - with match-funding from Standard Chartered - providing crucial scientific data and will form the basis of an invaluable education programme.

The journey, some 4000km at average temperature of -60°C and in almost complete darkness will be lead by two modified CATERPILLAR D6N Tractors each towing accommodation and research cabooses and fuel sleds..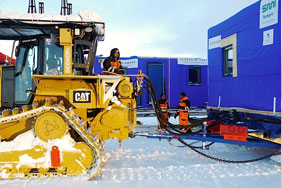 Approached by UK Caterpillar dealer Finning UK to provide vision systems to enhance driver awareness and monitor our intrepid explorers during their joinery Spillard's team rose to the challenge. The brief was basic provide system to monitor operator, ski team and caboose personnel, the challenge was to make it work in extreme conditions.

Unsure of the Optronics capabilities at these extremes, cold chamber testing was carried out, much to our amazement the only failure was a small patch lead between camera and loom cable. Now confident of the products abilities the system was developed.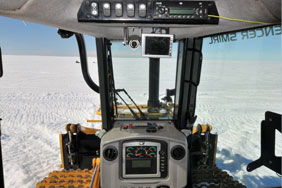 Comprising of a monitor and camera in each tractor and a monitor and camera in each caboose linked via the main umbilical cord, both operator and caboose technician can watch their progress. The system allows for override by both sides to provide privacy, with dashboard warning lights to alert to overrides and not system failures.

To monitor the ski team was a different challenge, having shown the team a video of a prototype of our 360 surround view system, they decided it would be the ideal accompaniment to the journey. Click for more info OPTRONICS360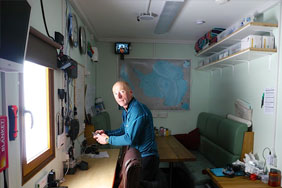 Optronics 360 is 4 ultra wide angle cameras producing 360°s of omnidirectional image data – horizon to horizon. The images are then manipulated through vision mapping software, creating image regions, which when digitally stitched together produce top down surround views.

To provide optimum vision for the tractors, two surround views were produced, one for confined areas 4mx4m for loading and unloading and a second 20mx4xmx2m for on the ice. The live surround views are then displayed on 10.2" monitors within the tractors with both systems having the ability to record their journey.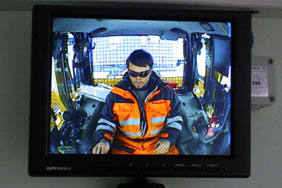 In addition to the vision systems and even though the cameras have low light capabilities, military spec LED lighting has been installed due to the journey being carried out in almost darkness.
Boom Cameras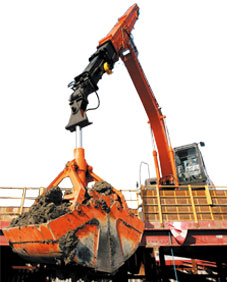 Load placement and confined dig sites, boom cameras can give an operator previously unseen imagery,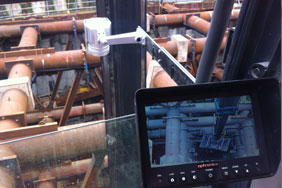 With expensive steel work and a risk to safety the Optronics camera can provide essential visual assitance to an operator.........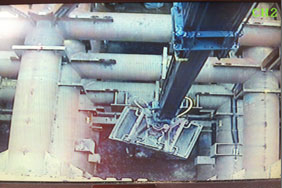 ....especially with the diig location 25metres below cab level
Wireless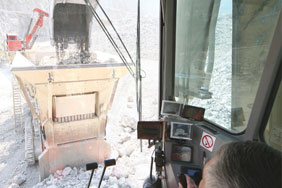 Optronics have been designing mobile CCTV solutions for almost 20 years,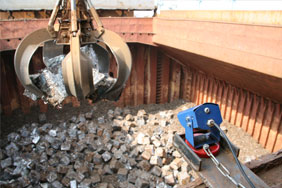 Optronics systems are tough, rugged and durable, using only the highest quality components and needing only minimal maintenance, they deliver superb, unrivalled image quality, day and night, even in low lighting conditions – improving the operator's field of vision, eliminating blinds pots to the rear of vehicles, and making reversing and manoeuvring far safer.
The first Optronics colour rear view system was launched in 1997 and is still compatible with any 5600 or M' series product sold today.
Dual, Triple, Quad Screens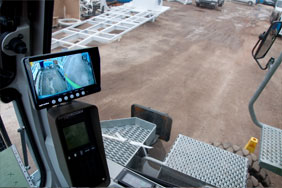 OPTRONICS360 is the world's first stand-alone surround view system for industrial vehicles offering the operator a bird's eye real-time view of the vehicle and its surroundings.

The OPTRONICS360 surround view system synthesises a bird's eye image of the vehicle using multiple ultrawide-angle cameras mounted on the front, sides and rear of the vehicle. Ordinarily, the fisheye distortion renders the views from such cameras unusable, but OPTRONICS360 deploys heavy duty signal processing to produce usable geometry.
Military Applications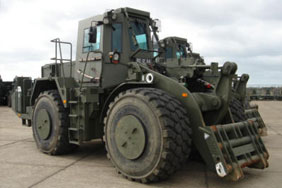 Optronics Foresight, a range of in-vehicle digital recording devices that provide invaluable data in the event of an incident, protecting against fraudulent claims and aggressive drivers.

Utilising installed cameras, video evidence is recorded together with vehicle data including location, speed and driver information including harsh acceleration or de acceleration, directional indicators used, seat belt worn, doors open.