ARV Convex Mirrors
Convex mirrors have greatly assisted drivers in seeing beyond the limits of a flat glass mirror. Today, the wide range of convex acrylic mirrors that have been developed, suit several classes of vehicle, each of which have their own visibility problem.

Utilising a non-uniform radius, radically improves the field of view, whilst minimising distortion and naturally enhancing vision.

Using our system all blind spots can now be eliminated and drivers will have all round vision, as described in the Health & Safety Executive Quarry fact file No.16 - titled 'Let drivers see and be safe'.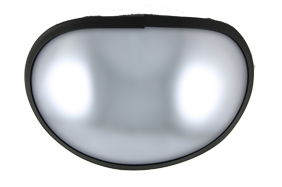 NC100 Convex Banana Mirror – Oval Ellipitical Lens which naturally extends the operators field of view.

Aluminiumised vacuum coated acrylic lens, 15″ x 8″ (388mm x 234mm) dual ball stud mount.

Type 4 mirror designed for
• Wheeled Loaders
• Dumptrucks
• Excavators
• Telehandlers

Complies with EEC Directive 71/127 abb 88/321and ECE regulation 46

Type Approved and CE marked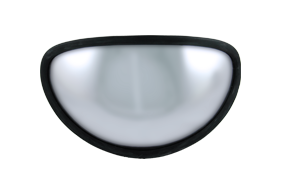 SC010 Convex Half Mirror - 12″ x 7″ single ball stud mount Quadra-spherical convex blindspot mirror with aluminiumised vacuum coated acrylic lens.

Type 6 mirror designed for
• Wheel Loaders
• Dozers
• Excavators
• Commercial Vehicles

Complies with EEC Directive 71/127 abb 88/321and ECE regulation 46

Type Approved and CE marked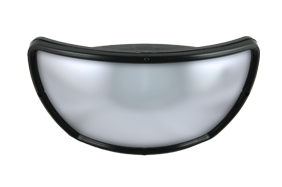 HD052 Bi-Optic Convex Mirror - 13" x 8" providing 180deg vision, for forward or rearward vision. Alluminiumised vacuum coated acrylic lens

Convex Mirror designed for
• Dumptrucks
• Excavators
• Telehandler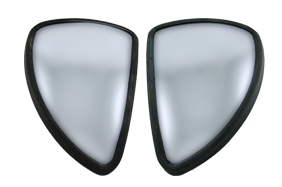 FL100 - FR100 Fang™ – Convex Quarter Mirror - The Fang ™ is an advanced spot mirror designed for a "down and out" perspective. It's aggressive convex lens reflects images 85 degrees out and 85 degrees down. All this with minimal distortion!

Convex mirror designed for
• Wheeled Loaders
• Dumptrucks
• Excavators
• Telehandlers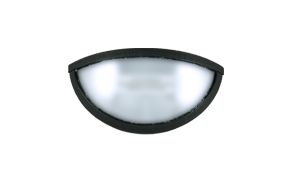 FLT092 Convex Interior Mirror - 9" x 5" 180 degree rearward vision. Aluminiumised vacuum coated acrylic lens, single M8 mount.

Convex mirror designed for
• Wheeled Loaders
• Fork Lift Trucks
• Telehandlers