Visibility Studies
………An Introduction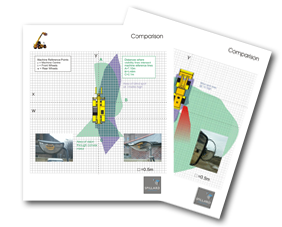 Health and Safety regulations require that a risk assessment is carried out to identify every risk or potential hazard that an employee is exposed to whilst at work and the risks to the health and safety of persons not in their employment.

For many years we have been involved in the assessment of all round vision for work place vehicles. From this we have established a wealth of knowledge and a large database of visibility studies for many types of vehicle.

These studies provide our clients with an independent visibility assessment for their vehicles. They can then used to advise, where necessary, which visibility aids are required and where they should be installed for optimum all round vision or if already fitted whether they need adjustment. This study can then be inserted into the vehicle maintainence record for future reference.

They can also be used to ensure the correct configuration and compliance for any future vehicle arriving on site.


………Downloads

The downloadable visibility studies are an ongoing project and have been carried out for various clients on machines working within the UK.

All studies are carried out on the understanding that they are licence free and are wholly owned by Spillard Safety Systems Ltd, unless otherwise stated.

Please click on one of the links below to access the visibility studies