ARA Safety Whips
ARA SAFETY WHIPS - with larger and larger vehicles working in or around quarry sites the need for visual verification of small workplace vehicles is critical to a safe site operation.

If segregation cannot be achieved successfully Safety whips provide smaller vehicle operators some assurance they can be seen when interacting with other site vehicles.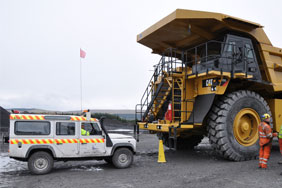 Solid Heavy Duty – Made from fibreglass and available in heights from 1.5 to 4 m, the whips are equipped with a bright coloured flag plus, if required, a series of LED flashing lights for maximum visibility during dull weather conditions powered through the vehicles cigarette lighter.