Warning
A duty of care to reduce accidents and incidents in the workplace has seen an increase in devices aimed at the operators of site equipment, but just as important is the nessicity to alert the people and machinery that interact together.

ALL ROUND ALERT, a selection of high quality, visual and audible safety warning devices for industrial vehicles, designed and developed for off-road applications.
'Be Seen, Be Safe'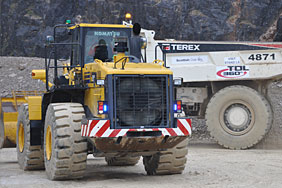 An innovative series of lighting, audioable and visual warning systems combines the latest in electronic design and state-of-the-art engineering technologies.

From the rugged die-cast aluminium bases to the conformal coated circuit boards, these products are built with the toughest environments in mind.
'Extended Views'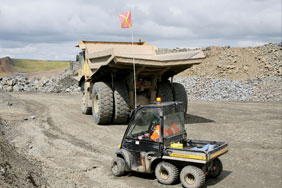 ARA SAFETY WHIPS - with larger and larger vehicles working in or around quarry sites the need for visual verification of small workplace vehicles is critical to a safe site operation.

If segregation cannot be achieved successfully Safety whips provide smaller vehicle operators some assurance they can be seen when interacting with other site vehicles.

Made from fibreglass and available in heights from 1.5 to 4 m, the whips are equipped with a bright coloured flag plus, if required, a series of LED flashing lights for maximum visibility during dull weather conditions powered through the vehicles cigarette lighter.
'All round illumination'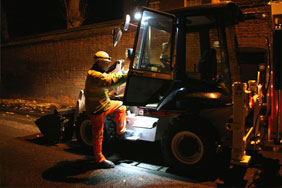 Industrial spec LED worklights, rugged, robust with high levels of illumination. Bespoke lighting designs to suit all types of vehicles.
Warning