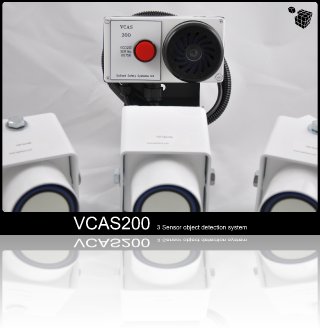 Vehicle Collision Avoidance System developed for installation onto 3t to 9t site dumpers.
VCAS   a vehicle safety enhancement system that warns operators of immediate dangers within a predetermined range.
VCAS provides the assurance of safety when a vehicle operation commences, the system cannot be turned off or ignored by operators unfamiliar with its features.
VCAS utilising industrialised ultrasonic technology produces audible and visual warnings if objects are detected within pre-configured primary sensing zones.
VCAS 200  – An industrialised object detection system for monitoring to a maximum of 4metres from any sensor at any one time. When mounted on a dump truck in a predetermined configuration a 4metre primary sensing zone can be achieved, providing effective visual and audible warnings to the dump truck operator, alerting him of immediate dangers.  
Powerful non-contact sonic sensing technology – max range 6 metres.
Speech alert, 85db tone sounder and high intensity LED warnings.
'Always on' transparent operation, eliminates operator interaction.
Low maintenance – insensitive to dust, humidity and air turbulence.
VCAS200_installation_guide_Sept08
[wpsc_products product_id='512']
———————————————————————————————————————————————————